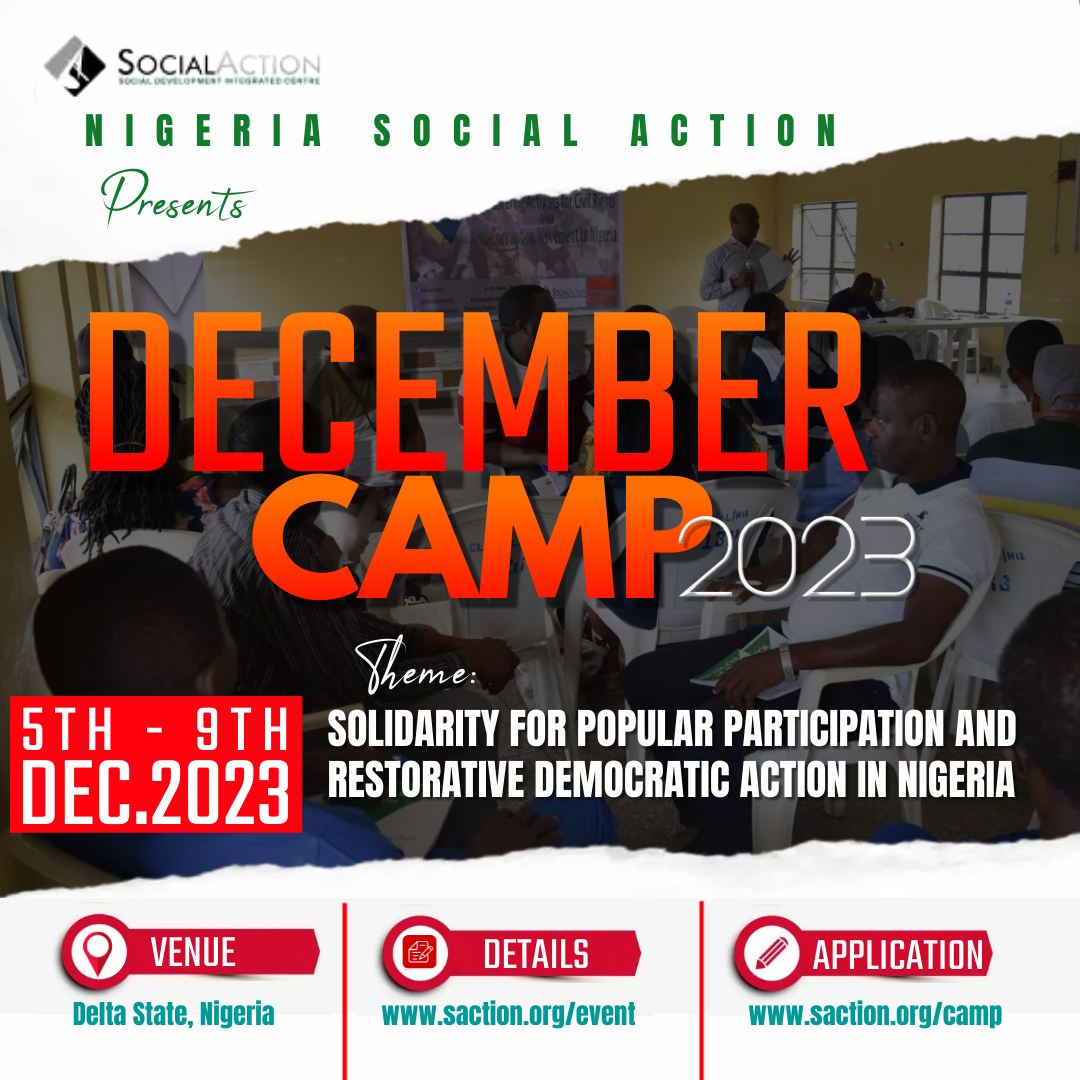 THE NIGERIA SOCIAL ACTION CAMP 2023
December 11 @ 12:00 pm
-
December 15 @ 5:00 pm
THEME: SOLIDARITY FOR POPULAR PARTICIPATION AND RESTORATIVE DEMOCRATIC ACTION IN NIGERIA
Since 1999, Nigeria's civic journey has taken a distressing turn, characterized by diminishing democratic freedoms. A clique of self-serving godfathers who act with total impunity overshadow Nigeria's political terrain. Their suspect democratic credentials, propped up by doubtful election results and a bending judiciary, steadily erode the nation's democratic foundations.
On the other hand, a growing civic awakening on the part of the youths awaits support to transform into a formidable popular movement. An oppressive and corrupt government cannot continue unchallenged forever! The Social Action Camp 2023 brings to the fore the urgency of revitalizing youth and civil society engagements, pushing them to interrogate the post-2023 political landscape and rally the populace against looming authoritarianism.
CURRENT STATE OF THE NATION:
Nigeria is caught in a whirlwind of challenges that transcend electoral concerns. While the 2023 elections spotlighted profound ethno-religious cleavages, casting aspersions on institutions like INEC and the judiciary, there's more to the story. The nation confronts a surge in violence, crime, and displacement, exacerbating the existing socio-political divides. The deteriorating economic landscape further strains the populace, leading to increased hardship and disillusionment with a ruling class that appears more aloof with each passing day. Against this backdrop, the demand for an all-encompassing, unified movement for societal reform becomes louder.
Youth-led movements did emerge during the 2023 election period, yet they faced challenges in terms of ideological coherence, longevity, and purpose, making them susceptible to absorption by entrenched political structures.
THE NIGERIA SOCIAL ACTION CAMP 2023:
Over the years, the Nigeria Social Action Camp has positioned itself as a nexus for deliberations and actions confronting Nigeria's socio-political milieu. A converging point for the youth, progressive factions, and agents of social change, the camp is a breeding ground for dialogue, fostering solidarity, and blueprinting transformative strategies. This year's edition pivots around re-energizing the engagement of youths and civil societies to lead resistance movements on a grand scale.
In solidarity with partners, from youth collectives to human rights advocates, the camp sets the stage for robust debates to reignite youth-driven initiatives. Channelling the spirit and fervour of the pre-1999 pro-democracy movements, the aspiration is to galvanize a movement rooted in accountability, advocating for the fortification of democratic values and warding off the encroachments of autocracy.
HOW TO REGISTER:
There are a few spots available for in-person participation. Click on the Registration button below and complete and submit the online form with accurate details. In-person spaces are not guaranteed due to high demand.