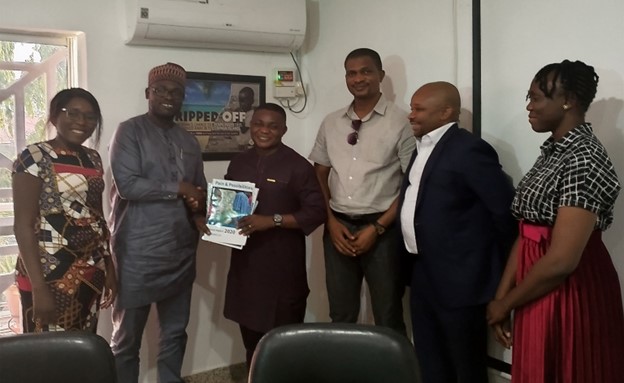 Oxfam staff led by its Director Programmes and Social Action team at Oxfam Office in Abuja.
Oxfam Nigeria expressed its impression with the achievements of Social Action in the campaign for social change and strengthening of government systems across the country. This admiration was expressed by Mr Abdulazeez Musa, the Director of Programmes of Oxfam in Nigeria when playing host to Social Action team in Abuja. He also expressed his desire to know more about Social Action, noting that a transformative partnership can be built with Social Action as Oxfam is keen on galvanizing the strength of numbers.
Social Action team led by its Policy Advisor, Dr Uche Igwe, paid an advocacy visit to Oxfam in Nigeria's office in Abuja on the 17th of November, 2022 to familiarize itself with the workings of Oxfam in Nigeria, review similar intervention areas and seek partnership for the collective good of Nigeria.
Earlier, the programmes coordinator of Social Action, Mr Botti Isaac gave a detailed explanation of Social Action's thematic areas and intervention programs with particular reference to the Climate justice and peacebuilding programs in the North East and public finance accountability programs in the Niger Delta. According to Mr Isaac, there seems to be a lot of overlapping interests between Oxfam in Nigeria and Social Action and with collaboration, more can be achieved.
Madam Peggy Maimaji, Oxfam's project lead on Together Against Poverty (TAP) and the project coordinator, Mr. Kenneth Akpan also acknowledged Social Action's consistent campaigns for good and transparent governance across the country. In their view, the organizations may be able to work together around gender-responsive budgets, climate intervention programs and research.
At the end of the meeting, it was agreed that Social Action's team will systematically seek areas of alignment with Oxfam and schedule other meeting sessions to discuss how both organizations can collaborate on some work areas.