2023 Lean Season: Nigerian Government Preparedness Against Food Insecurity?
Every year, countries in the Sahel region typically enter the precarious lean season; the period between harvests that lasts from May to August. Food insecurity is highly on the increase during this season and most households depend on different coping strategies to meet their food needs. Nigeria, especially its states in the extreme North, is at increased risk of food insecurity.
According to the October 2022 Cadre Harmonisé, a government-led and UN-supported food and nutrition analysis, about 25 million Nigerians would be at risk of facing hunger between June and August 2023 if critical action is not taken. This is an increase from the estimated 17 million people currently at risk of food insecurity[1].
The World Food Programme's Nigeria Country Strategic Plan 2023-2027 Executive Board reported that 25.3 million people will need food assistance during the 2023 lean season, of which nearly 1.9 million people will be in the exigency phase[2]. The November 2022 Cadre Harmonisé also projected that about 4.4 million people in the BAY states (Borno, Adamawa, and Yobe) would need food assistance[3].
This is an alarming trend that must be given attention with the needed urgency. Sadly, the governments at different levels seem unprepared for this exigency. Across the country, there have been increased violent conflicts which have further exacerbated the food crisis. According to a report from the Nextier Violent Conflict Database, food access has been affected by consistent violence in the north-east states of Borno, Adamawa, and Yobe and armed banditry and kidnapping in states such as Katsina, Sokoto, Kaduna, Benue, and Niger[4].
The nation's capital is also reported to have the highest kidnap tally in April 2023 with 29 victims from one incident. Increased gunmen violence between the 2nd and 29th of April redounded in eight incidents; 12 casualties and five kidnap victims[5]. This violent hotspot makes it difficult for farmers to transport their products within the country with each one concerned about his safety.
In states where there are fewer gunmen activities, farmers and herders clashes are experienced and the situation seems not to be getting better.
Climate change is another significant driver of food insecurity. In Nigeria, flooding is one of the effects of climate change. According to the National Emergency Management Agency (NEMA), more than 676,000 hectares of farmlands were damaged by flooding in the 2022 rainy season[6]. Crops were destroyed leaving little or nothing for farmers to harvest. The implication is the increased risk of food insecurity in the country this year.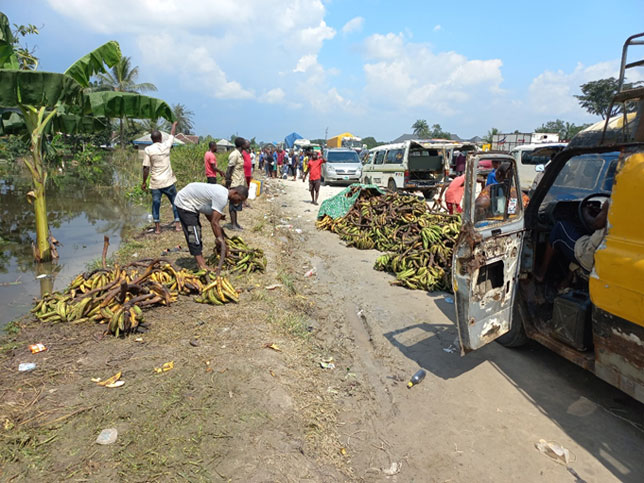 Farmers and their crops, stranded due to the floods in Nigeria in 2022
The Nigerian Meteorological Agency (NIMET) has consistently predicted flooding even before it occurs. The flooding that turned the country into a mess in 2022 was no exception. More extreme weather patterns affecting food security are anticipated in the future. Yet, the governments in Nigeria have failed to put preventive efforts in place to mitigate the effects of flooding. Lives and properties are constantly destroyed by this disaster and even after the period, there are little or no food products to cater to the surviving masses.
The agricultural sector which generates about 24 percent of Nigeria's Gross Domestic Product (GDP) is under threat by flooding and various violent crises. Our nation is currently ranked 103rd out of 121 countries in the Global Hunger Index[7]. The National Bureau of Statistics (NBS) 2022 Multi-dimensional Poverty Index (MPI) survey also estimated that 133 million Nigerians are multi-dimensionally poor with food as one of the indicators[8].
Despite the identified risks and alarming statistics, the government has not been able to fully prepare for the lean season. According to a situation report from Relief Web, the Nigerian government has banned NGO activities in Adamawa, disrupting humanitarian efforts which include food interventions in the state[9].
As we approach the lean season, the government needs to place food insecurity as a national emergency. The government must ensure that all citizens are adequately cared for and food security is a major dimension of any responsible government. This could be achieved by
Agricultural Investment: The government should allocate adequate funds and resources to support agriculture, especially during the lean season. Investments can be made in irrigation systems, agricultural machinery, and technologies, and the provision of high-quality seeds and fertilizers. This will help increase agricultural productivity and minimize crop losses during the lean season.
Diversify Agriculture: Encourage diversification of agricultural practices by promoting the cultivation of a variety of crops. This reduces reliance on a single crop and ensures a steady supply of food throughout the year. Promote the cultivation of drought-tolerant and quick-maturing crops suitable for the lean season.
Improve Storage Facilities: Enhance storage and preservation infrastructure to reduce post-harvest losses. Construct and maintain warehouses, silos, and cold storage facilities to store surplus produce during the peak season for use during the lean season. This will help in maintaining a stable food supply throughout the year.
Farmer Education and Training: Provide farmers with access to training programs and workshops that focus on modern and sustainable agricultural practices. Educate them on effective water management, soil conservation techniques, pest and disease control, and improved farming methods. Equipping farmers with knowledge and skills will enhance their productivity and resilience during the lean season.
Support Small-Scale Farmers: Small-scale farmers play a crucial role in ensuring food security. The government should provide financial assistance, access to credit facilities, and agricultural subsidies to small-scale farmers. This support will enable them to invest in inputs, machinery, and technologies necessary for increased productivity.
Proactive Actions on Early Warnings: While NIMET has been consistent with early warnings through weather patterns, climate conditions, and market trends, these warnings have hardly been heeded by the concerned agencies and tiers of government. The governments at all levels must work concertedly with and on the information provided by NIMET long before the floods let in. This will help anticipate and respond to potential food shortages in advance, allowing for timely interventions such as importation, distribution, or price stabilization measures, as the case demands.
Tackle Insecurity: One of the biggest problems the country faces today is that of insecurity. As long as the situation remains with its multifaceted dimension, Nigeria will never attain food sufficiency, no matter the quality of policies and their implementation. Government must show the political will and the capacity to deal with insecurity decisively to ensure a safe environment for agricultural activities from the cultivation stage to final transportation to the retail market.
Promote Agricultural Research: Invest in agricultural research and development to develop new crop varieties that are resistant to drought, pests, and diseases. Support research institutions and collaborate with international organizations to exchange knowledge and expertise in sustainable agricultural practices.
Food Reserves and Strategic Stockpiling: Establish strategic food reserves to ensure a buffer against food shortages. These reserves can be used to distribute food during the lean season, stabilize prices, and meet emergency needs in times of crisis.
While the task before the upcoming administration remains enormous, ensuring an end to food insecurity is achievable. Priority should be given to food security and the many external forces that inhibit it.
With adequate preparations from the federal, state, and local government authorities, Nigeria can be better prepared to face not only the lean season but tackle food insecurity. We have over 34 million hectares of land area that can be used to grow different food to feed the populace and export. These lands should be harnessed and the lives of farmers protected against violent activities from groups and flooding.
[1] https://www.unicef.org/press-releases/25-million-nigerians-high-risk-food-insecurity-2023
[2] https://executiveboard.wfp.org/document_download/WFP-0000146904
[3] https://fscluster.org/nigeria/document/final-fiche-report-november-2022-cadre
[4] https://thenextier.com/nigeria-violent-conflict-weekly-spotlight-22/
[5] https://thenextier.com/wp-content/uploads/2023/05/Apr.-23-29-2023-Nigeria-Violent-Conflict-Weekly-Spotlight.pdf
[6] https://www.thisdaylive.com/index.php/2023/01/26/mitigating-food-insecurity-in-2023/
[7] https://www.globalhungerindex.org/nigeria.html
[8] https://nigerianstat.gov.ng/news/78
[9] https://reliefweb.int/report/nigeria/nigeria-situation-report-20-apr-2023