Alone is Creating a Region-Wide Synergy for Open Budgets in the Niger Delta
In 2018, Alone, working with other citizens groups and development partners through the Open Budget Cluster in the Niger Delta has achieved significant improvements in open budgets at the sub-national levels of government. Between April and September 2018, significant events included the Niger Delta Open Budget Co-Learning Summit in Asaba, direct engagement of budgeting and planning officials of states, and processes to enhance participation of community groups were part of a conscious effort to institutionalize an open budget system in the states and local government areas in the Niger Delta.Following a decade of advocacy and engagements, some states in the Niger Delta region have made their annual budgets and other fiscal documents proactively available at no cost to the citizens by publishing them on their official websites. In other states, some budget documents are available in designated government offices with the payments of some fees.
In a related development, Alone has along with order stockholders also launched Niger Delta Open Government Observatory (NOGO) with members drawn from active CSOs across the region. The NOGO's mandate is the deepening and spiralling of Nigeria's Open Government Partnership (OGP) implementation in the region, with a view to making governments more open and responsive to millions of citizens. Although Nigeria was confirmed as a participating country by the OGP Secretariat on the 27th July 2016, Kaduna, Kano, Ebonyi, Niger, and Anambra States are the only states to have signed. Civil society groups are encouraging governors to sign up by advancing the benefits to them.
However, with disclosures of government budgets to the public in some states in the Niger Delta, which is a requirement of Open Budget, Alone and the Open Budget Cluster now focus on citizens' participation in the budget processes. Participation implies that budgets which are the vehicles for development should have inputs from citizens, outlining areas that will best develop their economic, cultural and social wellbeing vis-a-vis provision of infrastructures.
Working with other partners, Alone is promoting frameworks for citizens' feedback and monitoring mechanism of public budgets through shortcode SMS messaging, creation of portal, dedicated phone number and email address, and the creation FOI desk officers in all ministries, parastatal, department and agencies to provide prompt response to citizens and to receive feedback as well. The policy framework also emphasised the need for community organising, a tool that communities can employ to ensure that when organising community leadership structures, people who are knowledgeable with different expertise are brought on board to bring about professionalism and development.
Alone organised meetings in September 2018 in Yenagoa, Bayelsa State and Akure, Ondo State where community groups participated in validating tools adopted for citizens feedback and monitoring. Community groups advocated that community development officers (CDOs) with the responsibility to gather information from communities, and report to governors' offices be strengthened so they can perform optimally. Community groups also canvased quarterly Budget monitoring meetings.
Earlier in May 2018, Alone in partnership with the Strengthening Advocacy and Civic Engagement Project (SACE) held the Niger Delta Open Budget Co-Learning Summit in Asaba, Delta State in May 2018. The conference had emphasised the importance of open budget system as a tool for good governance, underscoring the need for the Niger Delta region, as one of the most sensitive eco-system and as an oil-producing region where over 75% of government revenue comes from, to embrace open budgeting.
Speaking on recent developments, Delta State Director of Budget, Monday Onyebuile took the participants on a trip through the stride made by the state in the area of openness and citizens participation in the process of the budget formation. Some achievements mentioned include; engaging a consultant to strengthen the week financial system through financial reforms, publishing of the budget on the state official website, publishing of the state Medium-Term Expenditure Framework and the fiscal policy paper online, and publishing of the detailed expenditure of the Paris Refund online.
Delegates from the different states shared their experiences on their participation in the budget formulation in their respective states. It was noted that by effectively organising themselves into active citizens group such as community empowerment networks, through which community's needs are developed into demand charter, active participation in the budget process would be facilitated.
Ahead of the Asaba Summit, a one-day policy dialogue in April 2018 focused on exploring and adopting models for citizens' participation in the Delta State Budget processes. The dialogue was hosted by the Government of Delta State in collaboration with Alone and the civil society body in the state. The Delta State Government showcased its adopted practice of seeking citizens' input and hoped to receive alternate plans developed by civil society (with the Open Budget Cluster leading) on for citizens' participation in the budget process.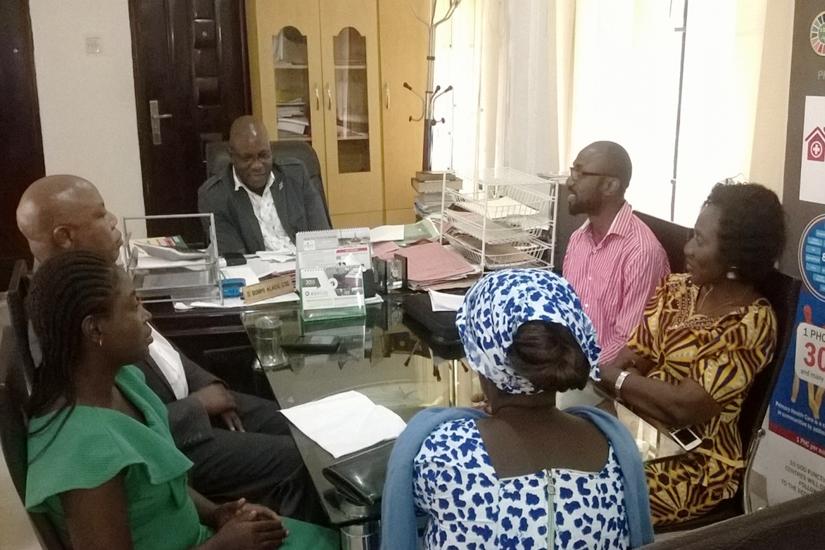 Alone led CSOs in Ondo State to meet with the Permanent Secretary, Ministry of Economic Planning and Budget, Bunmi Alade
Alone carried out advocacy visits to the Ministry of Budget and Economic Planning in the Niger Delta States of Cross Rivers, Akwa Ibom, Bayelsa, Delta and Ondo States as for follow-on on Commitments at the Open Budget Co-Learning Summit. These activities were carried out from 17th to 26th of September 2018 to further press home the need for the governments to fulfil commitments and adopt policies that makes it imperative to inculcate citizens participation in the budget process. Alone continued to advocate for free flow of information concerning government policies and fiscal documents to the citizens and a feedback mechanism from the citizen on result capital project evaluation to the government.
Representatives of government duty bearers in the states were unanimous in their commitment to implementing the suggestions articulated in the draft policy depending on availability of funds