Alone Supported Civil Rights Councils Train Nigerian Police On Human Rights
Over the years Nigerian citizens lost confidence in the police because of their engagements in acts of extortion, illegal mass arrests and detention, extrajudicial killings, corruption, unfair and unjust treatments to citizens, sexual harassment to women in detention facilities, unruly behaviors and opting for the highest bidder approach on the issues of bail. As part of an effort to address these challenges, the emerging volunteer organisation, Civil Rights Council has been engaging the police on human rights training in Port Harcourt, Rivers State.
On Tuesday, October 9, 2018, the Civil Rights Council organised a one-day sensitisation meeting at the Ozuoba police station to reconcile and strengthen the relationship between the police and citizens in Rivers State. The Sensitization programme sought to raise the awareness of the police on how to carry out their duties while protecting the rights of citizens according to Nigerian laws.
The Ozuoba training which had over fifty police officers in attendance is the first in a series of programmes planned in partnership with the Choba Area Command in Rivers State.
Alone's Arochukwu Ogbonna making a presentation
Arochukwu Paul Ogbonna Esq, Legal Officer of Alone in his presentation examined aspects of the Nigerian constitution dealing with the fundamental rights of citizens. He reminded the police officers that these rights inure to all Nigerian citizens and should not be deprived any citizen except through due legal procedures. Relying on statutory and judicial authorities and examples from other climes, he explained the working of the fundamental right principle and maintained that it is the grand canon of democracy, the rule of law and cohesion in any society and failure to observe this the community will degenerate to chaos.
Also speaking, Prince Edegbuo of Alone talked on the how to fight corruption and eliminate it from the Nigerian Police. He pointed out to the officers that Nigeria is considered globally as a corrupt country in part because of negative perceptions of the police.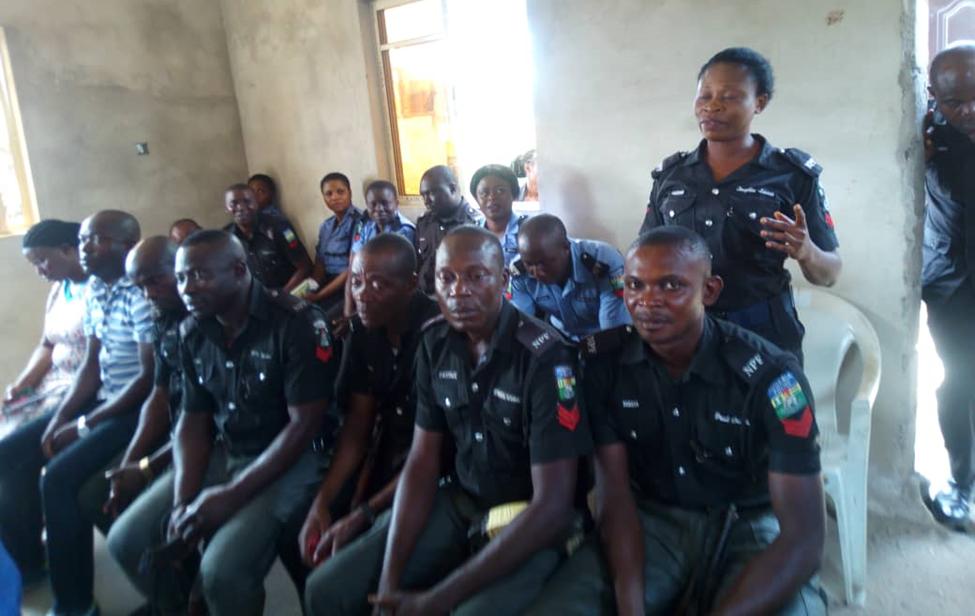 Police officers participating in the discussions
In his reaction the DPO, Babatunde Jimoh appreciated the effort of the Civil Rights Council and frowned at perceptions of corruption in the police. He stated that although there were bad eggs in the police force, the authorities are working to eliminate such incidents. He asked for the cooperation of citizens. Mr Jimoh also complained of inadequate funding to the police and tasked civil society groups to speak out about issues of the welfare of police officers.
DPO Jimoh making his remarks
In his closing remarks, Green Richard of the Civil Rights Council thanked the DPO of Ozuoba Police Station for supporting the training initiative.
Other training programmes have since been held at Rumuepirikom and Rumueme Police stations, all in Port Harcourt.