Anti-Corruption Day Road Procession on the Streets of Yenagoa, Bayelsa State.
Anti-Corruption Day Rally
The Bayelsa NGOs Forum, BANGOF with support from Social Action carried out activities to mark the International Anti-corruption Day in Yenagoa, capital of Bayelsa state with the Theme; ''Corruption; Impediment to the Achieving the Sustainable Development Goals (SDGs). The rally which was organised in partnership with the National Human Rights Commission in Yenagoa, Bayelsa state was targeted at raising public awareness for anti-corruption in the state.
While addressing the crowd at the Peace Park, BANGOF charged the anti-corruption agencies to collaborate with one another and create a synergy to ensure the campaign is given enough teeth in other to crush corruption in the state. The statement by the organisation further outlined the negative effects of corruption in the social and infrastructural development of the Niger Delta States and charge the citizens not to consider the immediate gratification that corruption offers but rather consider the overarching interest of the people.  Bayelsans were also encourages to report any case of corruption to the appropriate agencies for prosecution.
Participants displayed different anti-corruption messages, banners and inscriptions as they walked through the street of the capital city. 28 persons representing 21 civil society and media organizations participated in the rally which took off from the Yenagoa main motor park known as Ekeki motor park through the busy streets of Yenagoa and terminated at the Peace Park, opposite Government House at Ovom.
In continuation of the programmes outline by the Bayelsa Anti-corruption Network to mark the International Anti-corruption day, the Network featured in a 30 minutes Live Audience Participation Radio discussion at the Rhythm 94.7 FM in Yenagoa Bayelsa state. The discussion on the theme "Corruption; Impediment to Achievement of the Sustainable Development Goals (SDGs)" provided the platform for the Network to reach out to the listening audience of the radio station in Bayelsa and the neighbouring states. The programme elucidated call in from several audience who concurred with the studio guests and encouraged the Network not to rest on its oars to ensure that the state is rid of corruption. Other callers who wanted to know how to join the network in the campaign against corruption were directed by the Network members to BANGOF's secretariat in Yenagoa.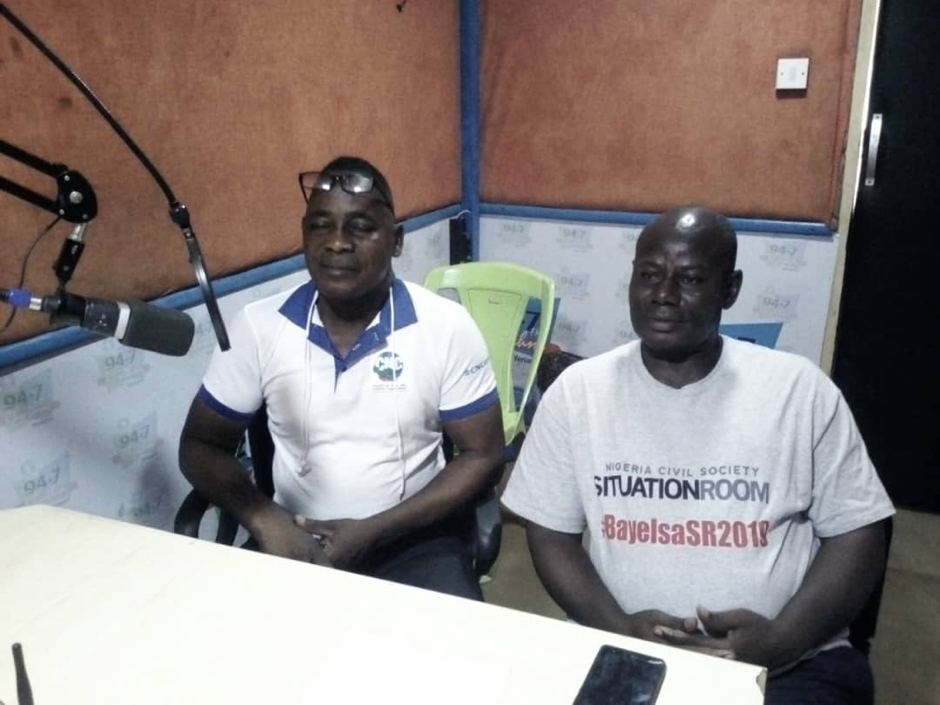 Members of the Anticorruption Network in Bayelsa State on  a live radio programme to mark the Anticorruption Day 2019