INTERNATIONAL ANTICORRUPTION DAY SYMPOSIUM IN BENIN
Anti-corruption Day Symposium
In Benin, the capital of Edo State, citizens and the civil society community joined the international community to mark the international anticorruption day 2019. On the 9th of December, 2019, Action for Socio-political and Economic Change (ASEC) held a one day symposium on the theme 'Creating the nexus between citizens and government on public accountability'. Participants were drawn from different civil society organizations and citizens in Edo State to keep them abreast of their roles in ensuring public finance probity and participation in government policy formulations and implementations.
Leftist Omobude Agho, the Coordinator General of Edo Civil Society Organisations making a presentation at the symposium
The Coordinator of Action for Socio-political and Economic Change, Comrade Osazee Edigin in his opening remark, quickly brought participants to speed on the Social Contract principle based on the premise of an existing agreement between citizens and government in achieving a well organised society where roles and obligations are documented in the country's constitution and various legal instruments. He further went on to lament the deliberate refusal of government in opening its books for citizens to see how their commonwealth is being deployed. In his simple analogy, he stated that, government is swift in taking tax evaders to mobile courts where judgment is summarily dispensed but adamant in releasing information to citizens on how same taxes collected are utilized.
He faulted Edo state government for not releasing information sought by civil society groups in the state which had led many of such requests ending in civil litigations in court. Participants were tasked in taking the use of the Freedom of Information Act to the local government council's level which is closest to the people.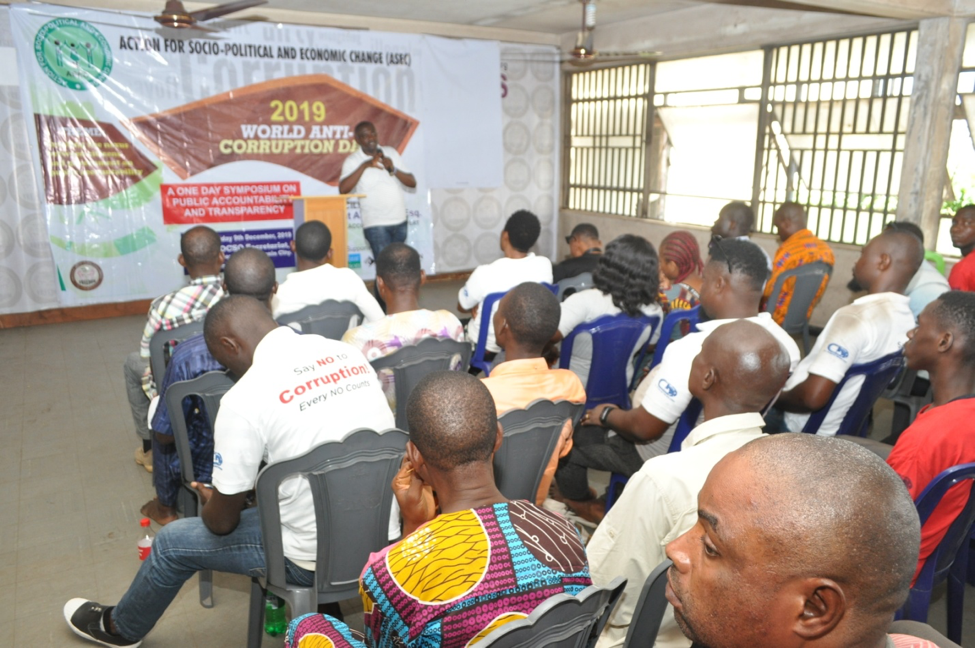 Coordinator of Action for Socio-political and Economic Change, Comrade Osazee Edigin making his opening remark at the symposium
In his remark, Leftist Omobude Agho, the Coordinator General of Edo Civil Society Organisations (EDOCSO), decried the poor level of citizens participation in governance which is a major setback in engendering responsive governance. He posited that, the reason government at all levels can undermine the power of citizens is because citizens show little or no interests in how their resources are being utilized on projects and general management of the state.
The main symposium was anchored by the guest facilitator, President Aigbokhan Esq, an expert and analyst in Freedom of Information Act, public accountability and transparency who delivered a paper on ASSETS DECLARATION SOVEREIGNTY: A MODEL FOR A CORRUPT FREE GOVERNANCE IN NIGERIA. He highlighted that sovereignty belongs to the people wherein government draws its legitimacy from. The link between regime of asset publication under the Freedom of Information Act, 2011 was also established. The role of civil society groups and citizens in engaging public office holders was not left out. He took participants through a journey of the need for citizens to use the Asset Declaration form in monitoring and curtailing the quest of amassing wealth by public officers. Participants were informed of their rights to information as contained in the public officer asset declaration form which enable citizens to know the worth of any public office holder prior to assumption of office and his worth during and after leaving office. He emphatically informed participants that, the asset declaration process is applicable to all public office holders including the President, Senate President, Speaker of the House of Representatives, Chief Judge of Nigeria, Governors and every other person that is holding public office in trust for the people. Questions were asked by participants and responses were offered by the facilitator.
The Anti-corruption Day Symposium was organised by Action for Socio-political and Economic Change (ASEC) and supported by Alone