Communities in Oguta LGA to Commence Litigation against the NDDC for abandoned Projects
Community leaders of Oguta local government of Imo state converged at a Town hall meeting in Izombe community to discuss some abandoned and unexecuted Niger Delta Development Commission (NDDC) projects assigned to their local government in the 2019 NDDC Budget.
The meeting which was held on Wednesday 19 October 2022, was part of a series of activities to strengthen civic and community actions against corruption in the NDDC sponsored by Alone, Alone, and the MacArthur Foundation.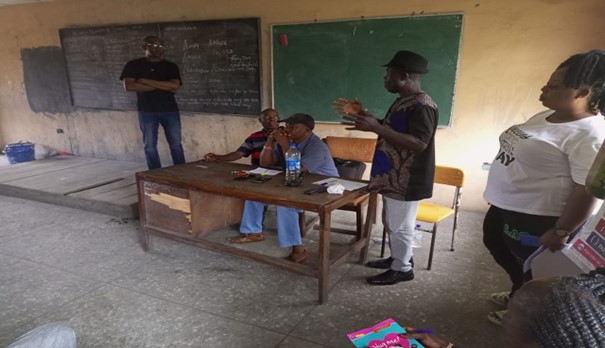 Chairperson of the meeting, Mr Chibundu Uchegbu enlightened participants drawn from youth, men and women groups, and members of the press on the role of the NDDC in championing the development of the Niger Delta Region of which Imo is a member state. According to him, the NDDC has failed in its mandate of providing services that benefit the people of the region. He expressed regret that though provisions were made for projects to be executed in Oguta local government in the NDDC 2019, capital projects monitored by his team in December 2021 showed that most of the projects were never executed while a few were abandoned halfway. This realization informed the Town hall meeting; allowing members of the community to take action.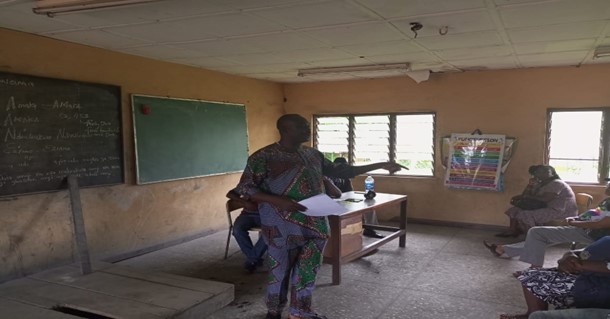 2 Basil Ejigini, itemizing the amount attached to each project that was not done in Oguta
Mr. Basil Ejigini a member of the 2019 NDDC projects monitoring team gave further details on the actual projects assigned to Oguta LGA. According to Basil, about N121, 750,000 was allocated to cater for five human development projects in the local government for the period under review. These projects include; Rehabilitation of 2 school blocks Trinity High School Oguta, the Provision of Solar Powered Street Light in Ndi-Ikwuegbu, the Construction of the Izombe Federal Medical Centre Annex, the Construction of the Health Centre in Ubi, and the Construction of Okonya/Justice Assieme Road.
These revelations prompted outcries from participants who confirmed that the communities mentioned are theirs but none of the projects had been executed in the community. They promised to convey enlarged meetings with all members of the community and consider possible actions that would be taken to ensure that what belongs to them comes to them unvaried. Although the community blamed the government for not including the community leaders when the funds were released for the project implementation, they insisted on taking action to curb the abnormalities.
Mr. Chibundu thanked all for their reception and informed them to get ready for the third stage of the campaign which is the Litigation stage.