DELTA STATE CIVIL RIGHTS COUNCIL EMBARKS ON AGGRESSIVE VOTERS EDUCATION
Civil Rights Council members made up of Ughelli, Warri, Asaba and Okpanam Civil Rights Council Units in Delta State, on the 29th of July, 2022, carried out the first phase of political sensitization programme in various rural communities in the state under the theme: "Voters Sensitisation: Together we can shape our future, Voter registration is your right". The sensitisation activities were in furtherance of the political education programme of the C.R.C in the state towards enlightening the citizens, particularly those in the rural areas, to participate actively in the political processes leading to the 2023 General Election in the Country.

Civil Rights Council Members Asaba, during the sensitization program 
The activities targeted the active youth populations in the rural areas who, rather than participate actively in the electoral process, are willing to act as thugs and agents of violence to disrupt electoral processes. The activities were designed to engage the youths, educate and mobilize them and encourage them to exercise their political franchise and participate in the electoral process as agents of change.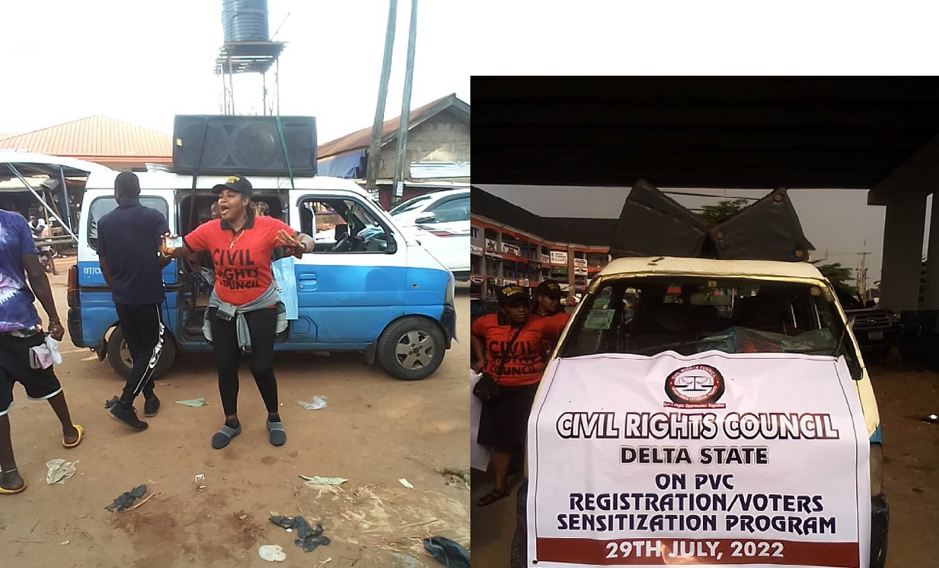 Speaking at the gathering in Asaba, prior to the takeoff of the rally, the Secretary, Delta Civil Rights Council, Comrade Joy emphasized the importance of the sensitisation program to arouse the political consciousness and stimulate the interest of rural dwellers who constitute the majority of the population but have lost trust on the credibility of the system. According to her, electoral malpractices are possible when citizen don't take seriously their civil duties and responsibilities in accordance with extant laws as stipulated in the electoral act. She therefore encouraged youths to participate in the process and shun the idea of being used as willing instruments by corrupt politicians to hatch their selfish ignoble plans.
Civil Rights Council members Warri carrying out sensitization program
Similarly, in Warri, the Program Officer of Alone, Comrade Joshua Gberele, urged members of CRC Warri to use the power of the media, develop skills and tools of advocacy to reach the citizens in order to deepen political education and create the needed political consciousness for an informed citizenry. This, he maintained, will lead to informed political choices, political accountability and good governance in Nigeria. He assured the Civil Rights Council of continued support from Alone within the ambit of available resources, to drive home their campaigns and advocacy programmes.