Oil Theft, Pollution and the Politics of Modular Refineries
Recent pronouncements on modular refineries by the federal government have ignited excitement among youths seeking legitimate employment away from artisanal refining of crude oil. However, modular refineries are neither a community development alternative nor a sustainable option for addressing widespread youth unemployment. Alone calls for a new conversation to identify alternatives to the destructive petroleum industry.
The issue of modular refineries has dominated discussions on approaches for dealing with twin menace of crude oil theft and artisanal refining in the Niger Delta region of Nigeria, which contribute to the massive environmental pollution in the area. An estimated 400,000 barrels of crude oil is stolen daily with unaccounted volume spilling into the environment in the process of siphoning product from pipelines. While large-scale crude oil theft for export is carried out by internationally connected syndicates, youths that engaged in artisanal refining argue that they do so to earn a living due to lack of jobs. Not minding the negative economic and environmental impacts of their activities, they claim that they are only 'collecting' what is found in their soil and rightfully belongs to them. If you press further, insisting that what they are doing is stealing because it is illegal; they would reply that it is the government and international oil companies that are actually stealing oil from the region. They accuse the Nigerian political elites as the real thieves who share the stolen proceeds of oil in Abuja through corrupt practices leaving little or nothing for the development of the oil producing region.
The government believes that apart from the negative environmental impact of oil theft and crude oil refining, such activities made money available in the wrong hands. Proceeds from crude oil theft and artisanal refining contribute to funding the acquisition and proliferation of small arms and light weapons being used by militants and criminal gangs in the Niger Delta region. In reaction to these, the federal government empowered the Nigerian Security and Civil Defense Corps (NSCDC) and a joint military task force (JTF) now known as Operation Delta Save to provide security for the pipelines and stop artisanal crude oil refiners.
Although it is hard to measure the actual achievements of these security formations in the task of curtailing pipeline vandalism and illegal oil theft in the region, observations and research have shown that their mandate has not made any significant difference as oil theft seems to be on the increase. According to the Vice Chancellor of Federal Univerisity of Petroelum Resources, Effurum, Delta State, Akin Ibhadode, about 70 percent of stolen crude is said to be successfully exported out of the country and the remaining 30 percent illegally refined locally through the support of some of the security operatives that aid and abet the business.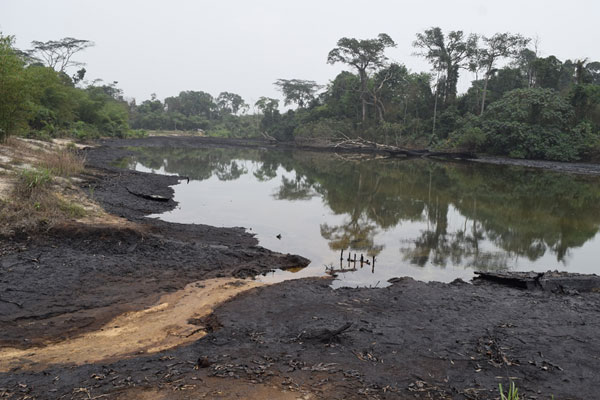 Crude oil theft and artisanal refining operations add to the pollution of the Niger Delta
Moreover, the activities of state security agencies compound the pollution in the Niger Delta. For example, widespread black soot pollution has impacted many parts of the Niger Delta, including the city of Port Harcourt since 2016. The soot which are black particles resulting from incomplete combustion of materials that deposit inside homes (when windows are open), on cars, roofs and any other thing left in the open are blamed on activities of artisanal refineries, asphalt companies, and abattoir operators who use condemned vehicle tires to roast cow and goat skins. While the aforementioned sources contribute to black soot emissions, Alone believes that the bulk of it comes from the incessant and indiscriminate burning of tankers, vessels, artisanal refining sites and other oil laden containers by men of the Operation Delta Save, Nigerian Navy and Nigerian Security and Civil Defence Corps (NSCDC) in the region. For instance, the Nigerian Navy's Chief of Naval Staff, Vice Admiral Ibok-Ete Ibas told Channels Television on June 5, 2017, that they have so far destroyed over 500 illegal refineries in the Niger Delta during the first half of 2017 alone. As good as this may sound, as we also know, crude oil and other products recovered from these illegal refineries are not safely evacuated but deliberately burnt or contents spilled into the environment.
Those involved in artisanal refining boast that the security operatives cannot stop them and that their products are competitive with those imported or produced in the main refineries. Some of those interviewed on this said that the illegally refined petroleum products like fuel, kerosene and diesel support local demand and contribute to the sustenance of the Nigerian economy such that if they stop operation over a period of time, there would be energy crisis in Nigeria as some of their products are also bought and distributed nationwide by tanker drivers and registered marketers.
Partly due to the inability of the security operatives to contain the activities of youths involved in oil theft and artisanal refineries, partly in recognition of the contributions of youths engaged in artisanal refining to the energy needs in Nigeria, the federal government had taken steps to grant licenses for modular refineries formally. However, modular refineries are being presented or interpreted in some quarters as a way to integrate youths involved in illegal oil theft and artisanal refineries into the downstream sector of the economy.
For many years running, there have been calls on the Government of Nigeria to support the establishment of modular refineries in the face of chronic fuel shortages occasioned by the collapse of state-owned mega-refineries. Nigeria's Acting President, Prof. Yemi Osinbajo during his tour of States and communities in the Niger Delta region in February 2017 made pronouncements that the Government would replace illegal refineries in the area with modular refineries for the youths who prefer that line of business as means of livelihoods. This Government statement came at a time that Alone had fixed March 21st, 2017 as the date for a "National Conference on Oil Theft and Artisanal Refineries in Nigeria" to bring together diverse stakeholders and discuss these issues and proffer solutions to the problem through recommendations.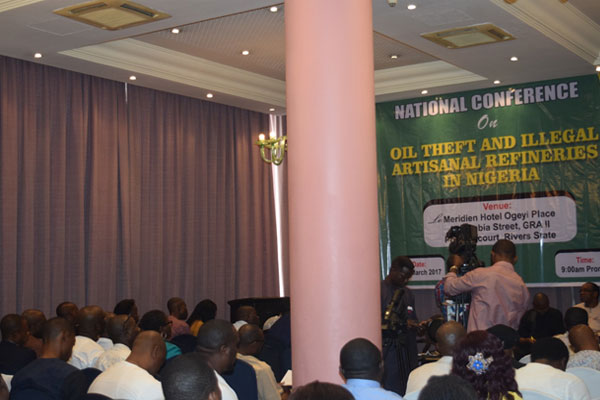 Cross section of participants at a Alone organized conference on crude oil theft and artisanal refineries
Shortly after the national conference, some Niger Delta youths who still engage in oil theft and artisanal refining as well as those who have jettisoned the trade reacted to the Government's pronouncement on modular refineries by converging in Delta State to strategize on ways to key into the policy on modular refinery proposed for the region.
Due to Acting President Osinbajo's pronouncements, an expectation has been raised among operators of artisanal refineries that all of them could or would get a modular refinery license. Operators of artisanal refineries believe that metamorphosing into operators of modular refineries will save them the threats, arrests, and destruction of their illegal refineries by security operatives who in the process spill the confiscated product into the environment and contribute to pollution and black soot emissions as they set the products ablaze. Influential politicians and interest groups have started positioning themselves to obtain modular refinery licenses. However, the bubble may have burst after the Rivers State House of Assembly Committee Chairman on Environment, Hon. Christian Anyakwo in June 2017 alerted the youths that the Muhammadu Buhari led Federal Government had already approved 65 modular refinery licenses to companies owned by individuals from outside the Niger Delta. It would be recalled that, apart from the three modular refinery licenses approved under former President Goodluck Jonathan administration, Alone in its briefing paper, Policy Options for Addressing Artisanal Crude Oil Refineries and Pollution in Nigeria, published in October 2016, hinted that 65 modular refineries licenses were approved for interested companies in the early days of this administration.
Alone observed a meeting of artisanal refinery operators in Warri. Local youth seek modular refinery licenses from the federal government
Much as Alone had supported modular refineries as a short term measure for dealing with fuel shortages while also limiting the colossal environmental damage from artisanal refineries, the politicization of the matter is informed by the manner of presentation by Acting President Osinbajo. Modular refineries are neither a community development alternative nor a sustainable option for addressing widespread youth unemployment. We need a new conversation to identify alternatives to the destructive petroleum industry. Such alternatives must be linked to ongoing conversations about the restructuring of the Nigerian state. For too long the state and its allied capital have been impediments to communal well-being. Artisanal refineries, irrespective of how many licenses are awarded, will not resolve historical iniquities.