INTERNATIONAL HUMAN RIGHTS DAY SYMPOSIUM IN BAYELSA STATE
The United Nations General Assembly adopted the 10th of December every year for the annual celebration of International Human Rights Day. The date was chosen by the United Nations to honour the adoption and proclamation of the Universal Declaration of Human Rights (UDHR)
In Bayelsa State, a Symposium was organized by BANGOF in partnership with the National Human Rights Commission on the 10th Dec, 2019 to x-ray relationship between the respect for human rights, the fight against corruption and sustainable Development. The meeting provided a platform for key stakeholders including the chief Judge of Bayelsa state to discuss the fight against corruption and human rights abuses in the society. While giving his good will messages the Chief Judge of Bayelsa State drew a connecting streak between corruption and human rights abuse. He said corruption affects human rights directly and indirectly. According to him, corruption in the criminal justice system could deny a citizen fair hearing, thereby violating his fundamental right to a fair trial.  The request for money at the police station before one is released on bail is not only an act of corruption but also a violation of the rights of the victims to free bail.
Other contributors who presented their good will messages at the symposium also pointed to different instances were corruption has led to the infringement and denial of the rights of innocent citizens and even caused the death of many. It was unanimously agreed during the interactive session that every act of corruption leads either directly or indirectly to the denial of the rights of some people. One key lesson learned was that the Bayelsa public is tired of the corruptions and are willing to support the government and other stakeholders to eradicate it.
In a keynote delivered by the Attorney General of Bayelsa state on the theme "The role of young people in bringing human rights to life'' he called on young people to demand for their rights and defend the rights of others especially the vulnerable in society. He also called on young people to resist the get rich quick mentality to avoid being caught in the traps of corruption.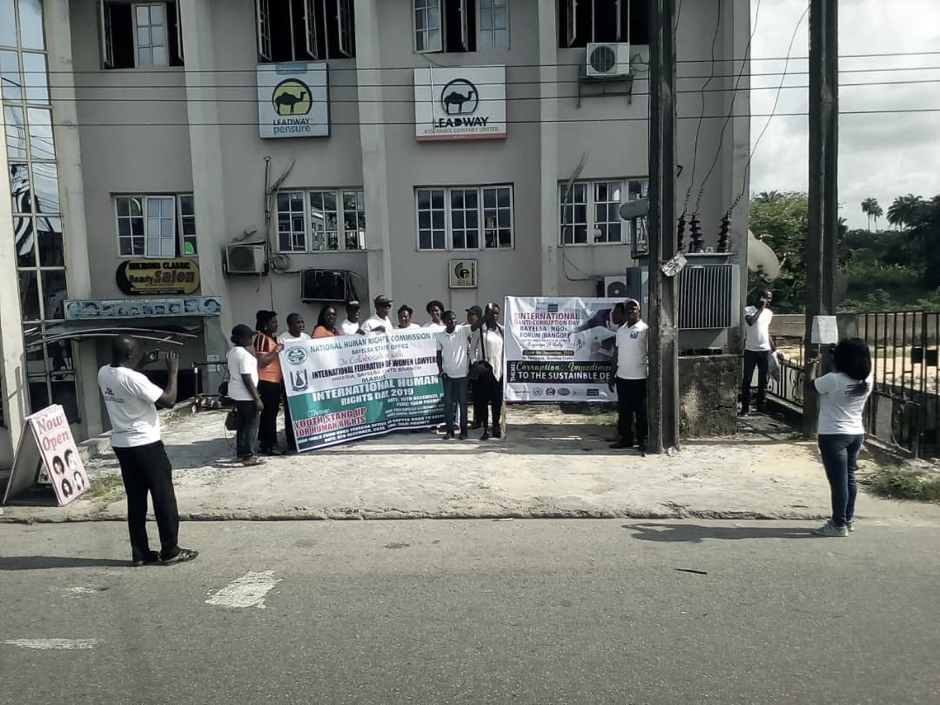 Representatives of the different government agencies at the symposium, in their good will messages, commended BANGOF and the National Human Rights Commission for the courage to organize activities to sensitize the public and the Government of Bayelsa state on the illness of corruption and human rights abuses in the society. They expressed their readiness and willingness to collaborate with all stakeholders to promote respect for Human Rights and public accountability in their spheres of responsibility.
Present at the meeting were the Chief judge of Bayelsa state represented by a Justice of the federal High court in Yenagoa, the Attorney General of the State, the Commissioner of Police, Bayelsa state command and the Comptroller of Prisons, Bayelsa State. Other were the Commandant of Civil Defence Corps, Bayelsa Command, Federation of International Women Lawyer, FIDA, Bayelsa state chapter.